Isn't kind of strange to think Ta Prohm is most known for being the temple used in the Tomb Raider movie? I think so. Kind of like the Burj Khalifa might be known as the tall building in Mission Impossible, and not for being the tallest building in the world. strange. Ta Prohm is one of the temples I visited when I first when to Cambodia back in 2009 with the Raddest Photo Trip Ever. And it's changed immensely. In a way it's sad to me that Cambodia is making these temples more "tourist-friendly". Like other temples, wooden boardwalks have been build around and through the ruins for accessible touring. For me it takes away from the charm and history of what these temples once were and how what they once represented is literally left in ruins. But add those tourist-friendly elements and I feel the "renovations" are really doing a disservice to people who come to soak in the history of Angkor Wat. The boardwalks are also set above ground level to manuver over some of the fallen stones, but you lose the grand feeling of being on ground level looking up at these amazing structures and the ginormous trees growing out of them. In 2009 you could climb and explore through the temples which gave me a feel for how the ancient people of Angkor used to. Now with the boardwalks it feels detached like I'm walking through a zoo or something.
I'd highly suggest getting your butt to Cambodia and Angkor as soon as you can. Who knows what else will be changing in the next years. Not to mention, when I went in 2009 most of the temples were empty, so we could explore at our leisure. This past time I visited most of the temples were overcrowded with tour-bus-loads of people. I wasn't a fan of that.
With all that said, Ta Prohm is amazing. It's one of a few temples of Angkor Wat that is covered in the types of trees with their huge roots that climb up and over the ruins. On this day I was alone, so it was nice to spend time sitting and soaking it all in. I really enjoyed going through and capturing the same elements that I did in 2009 and looking back to see how my voice has changed. This time, too, I brought along a polaroid land camera and an instax mini. I can't wait to get those prints scanned.
. . . . .
P.s. I love looking back at my post from my first Ta Prohm visit. Oh how my photography changed. Going on that trip was one of the pivotal moments in my life. I gained so many girlfriends whom I cherish to this day... one even named Cherish, whom I went with to India. I also learned a lot about photography, especially Amy <3 who I spent many long tuk tuk rides with. And Richelle who I went with on this Cambodia trip! All in all it was wonderful to return to Cambodia. I felt like I was returning home. I loved experiencing Ta Prohm for a second time, my eyes wiser and my photography more mature.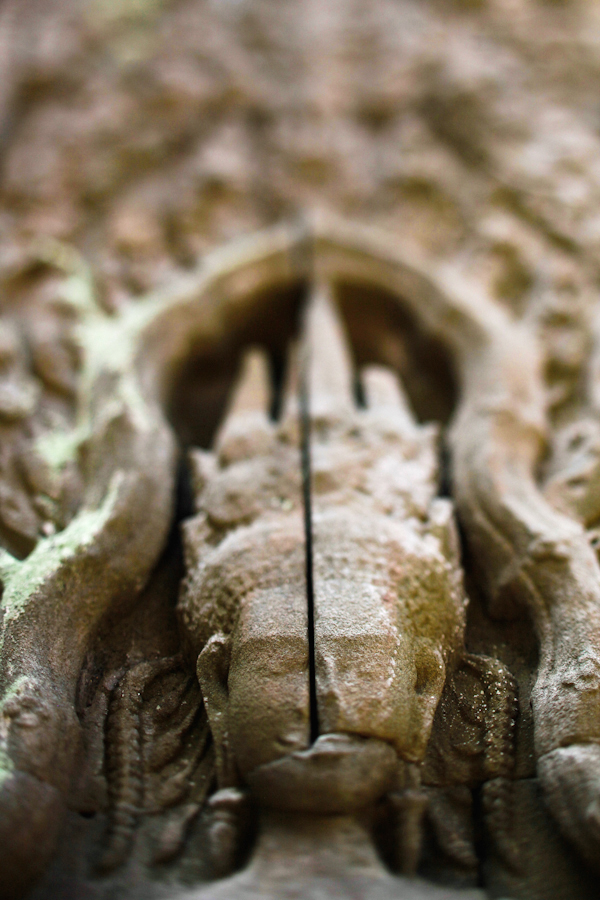 Here's a picture from my trip in 2009. The picture is taken of most of the group by Josh Newton.
Below is a picture of the same spot. The left from 2009 and the right from 2013. The original left picture was a vertical image, but I cropped it to compare the two images. You can see how they've added modern structural elements to keep the ruins from falling apart. You can also note a vast difference in how I edit. Crazy how so much changes in four years.